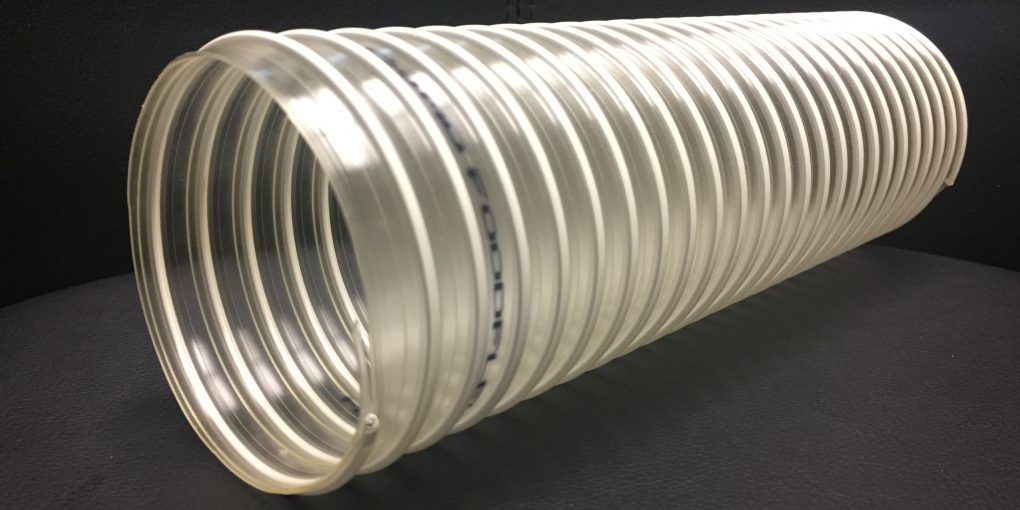 Eximo Ducting Keeping Bugs Off Our Food
A general-purpose German Engineered ducting is now available specifically for food industry applications. Available from ducting specialist Eximo based in Sydney, Food Flex is a medium weight and flexible polyurethane ducting that is clear of color, thus allowing constant inspection of product as it travels along the system.
Apart from its strong and flexible polyurethane, wall reinforcement is done by way of its powder coated spring steel helix throughout the length of the product.
Typical applications include suction and transport of lightweight materials in food and pharmaceutical industries.
Food Flex contains an organic compound that is resistant to mould, fungus microbes and hydrolysis.
As this quality is built into the product, it continues to perform even as the wall deteriorates during constant use, which is unlike some other products that only use a simple coating of inhibitors.
Various properties provide the product with a long life. For starters, rather than just being resistant to hydrolysis and microbes, FoodFlex has a very solid construction with good oil resistance, excellent and abrasion resistance and a smooth bore.
Its temperature resistance ranges from -40 °C up to +100 °C. The product is available in single length 10 m roles or in cut lengths to order.
FoodFlex with diameter ranging from 25 mm to 99 mm has a wall thickness of 0.5 mm, while FoodFlex with diameter ranging from 100 mm to 500 mm has a 0.6 mm wall thickness.